Text
Peel Art Gallery, Museum and Archives (PAMA) is bringing an exciting new vision to its museum with the first refresh of its core exhibitions since 2012.
The new exhibitions will stay true to the museum's primary purpose – to share the stories of the Peel Region. Using the guiding principle "Nothing About Us, Without Us", the revamped galleries will bring an even stronger focus to the people and communities of Peel.  
What does this mean for visitors?
Over the next year, the PAMA museum and art gallery will launch three brand-new core exhibitions that highlight objects from its permanent collection, many of which will be on view for the first time. The introduction of more hands-on and technology-driven activities throughout the museum galleries will provide a host of new ways for visitors of all ages to be inspired and make connections to the Region's past and present.  
PAMA core exhibition reopening schedule:
Spring 2023
Behind the Bars: The History of the Peel County Jail will feature new research and stories from the jail's 100+ year history, plus interactive learning stations.
Summer 2023
Yours to Discover: Sights/Sites of Peel Region will explore Peel Region's landscape through artworks from PAMA's permanent collection and digital mapping.
Fall 2023
Stories of Home: Community and Belonging in Peel is a new exhibition that will forefront personal stories and engaging activities about Peel's settlement and immigration history.
2024
Move/Build/Grow will consider how businesses, artists and industry have made an indelible impact on the landscape and history of Peel.
Beginning in 2023 an Indigenous Advisory Committee will be working to redevelop and reposition a new exhibition centring Indigenous voices, culture and history, opening in late 2024
In addition to a wealth of programs and events for children, youth and adults,
PAMA has a full exhibition schedule for visitors to enjoy in 2023:
Infrastructure Canada Funding Programs - HVAC Remediation Projects
Image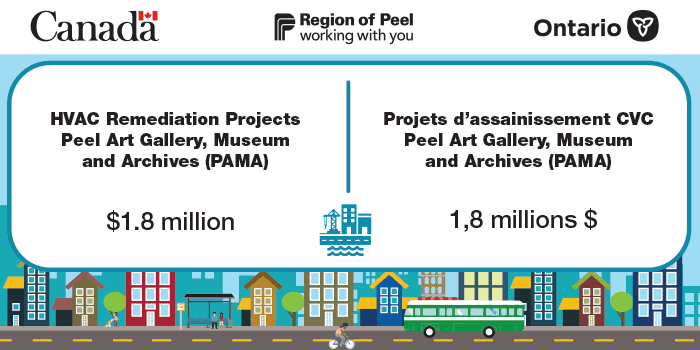 Your Tax Dollars at Work - HVAC upgrades at PAMA
Image