Whether you are visiting PAMA for the first time or a returning visitor, we hope that your experience is inspiring
We encourage you to snap and share your visit. Tag us @visitpama on social.
To plan your visit, access:
Visitor guidelines
Plan your visit
On arrival, head to the Information Desk to pay admission and pick up a map to guide your visit.
No food or drinks in the galleries. Enjoy snacks and beverages anywhere outside of exhibition spaces. Please note that we do not have food services on-site.
Water fountains are located near restrooms.
PAMA has a coatroom and lockers available on-site to store your coats, large bags, umbrellas, and other items. We are not responsible for lost or stolen items.
A quiet room is available upon request.
Help us to keep our collections safe by enjoying the art and artifacts with your eyes only. 'Please touch' opportunities are available where indicated.
Visiting with families
Strollers are welcome in our exhibition spaces. Leave wagons in the coatroom.
You are welcome to feed your infant where you are comfortable.
Infant changing tables are available in washrooms throughout the site.
Ask the Front Desk for your own family activity book.
In the galleries
Switch your phone to silent mode while in the exhibition spaces to be considerate of others.
Help protect the art and artifacts. The art and artifacts are fragile, please do not touch them or lean on exhibit cases or walls.
Use pencils for sketching or note-taking in the galleries. Markers, pens, paints, charcoal, and easels are not permitted.
Light can cause damage to art and artifacts. To reduce risks to the collection, the light levels in the gallery are low.
Photos are allowed for personal use except where indicated. Please do not use flash, tripods, or selfie-sticks. Commercial or professional photography must be arranged in advance, please contact us for more information.
Book a Private Tour
Image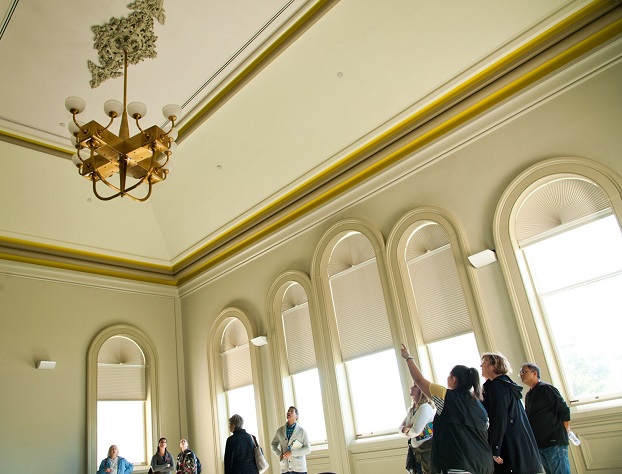 During a Private Tour, a PAMA Educator provides a more in-depth experience of our exhibitions and facilities. It's like a backstage pass for you and your group. Perfect for all ages. Tours are up to 1.5 hours in length. 
The cost is $8.86 per person + HST, with a minimum of 15 people and a maximum of 20 people per group.  A minimum (flat rate) for less than 15 people is $132.90 + HST.
Please contact infopama@peelregion.ca or call 905-791-4055 to book a Private Tour.
Accessibility
PAMA is an accessible facility, including ground-level entrances and elevator access to all floors.
There are three accessible free parking spaces.
Service Animals are welcome.
PAMA is a Peel Regional Police Safe Place.
Other services
As PAMA is owned and operated by the Region of Peel, the PAMA Access Peel desks also offers Regional services:
Water and wastewater statements
Special assessment invoices
TransHelp payments
Payment and booking of large metal item appointments
Payment and registration for Food Handler Certification Course