Image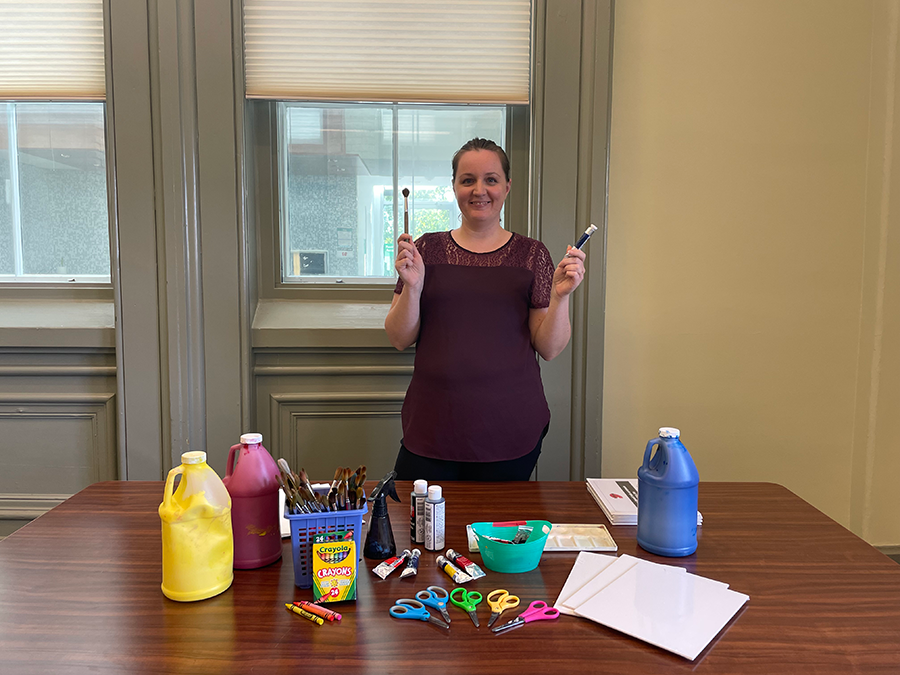 PAMA offers a wide spectrum of school programs for kindergarten to grade 8 students that incorporate Ontario Curriculum Connections. Programs are delivered either at PAMA or on-site at your school.
Our tours integrate Visual Arts, Social Studies and Science & Technology Curriculum, and make cross curricular connections through our educational exhibitions and workshops. School visits are open to all grades from kindergarten to grade 8.
Currently, PAMA educators visit your school and bring the wonder of PAMA to you. Your students can create one-of-a-kind pieces of art by learning various methods and techniques used by professional artists. After you book your program, review the information to prepare for the tour or workshop.
Prices
| | |
| --- | --- |
| School programs | Prices |
| School Outreach - Art on Wheels - 1.5 hours | $179 Price includes 20 students. Extra students are $9 each. |
| My Gallery Tours or My Museum Tours - 2 hours (Coming soon! Check back spring of 2023) | $126 Price includes 20 students. Extra students are $6.30 each. |
| Art Studio Workshops - 1.5 hours (Coming soon! Check back spring of 2023) | $158 Price includes 20 students. Extra students are $8 each |
| Full Day - Any My Gallery or My Museum Tour plus Any Studio Workshop - 4 hours (includes 30 min. lunch)(Coming soon! Check back spring of 2023) | $252 Price includes 20 students. Extra students are $13 each. |
| Quick Tour - Add on a 30-minute tour to any Art Studio Workshop (Coming soon! Check back spring of 2023) | $42 (Add-on only) Price includes 20 students. Extra students are $2.10 each. |
All prices include HST. Maximum 30 per group.
Pricing includes 20 students. A maximum of 30 students can be in one group. Changes in group sizes are required at least two weeks prior to your scheduled school program.
You will receive an invoice for your program at the end of your program date. Payment for your program is due within 30 days.
Booking a tour or workshop
To register your class, fill out the booking form and send it to infopama@peelregion.ca. If you have further questions, contact us at (905) 791-4055.
We will need this information:
Teacher name(s)
School name, address, phone number, and email address
The program(s) you wish to book
The day(s) you want your program on (you might want to have a few dates in mind, just in case we cannot accommodate your first choice)
How many students/classes will be coming (minimum 20 students and maximum 30 students per group). We can accommodate two groups per day.
Are you staying on-site for lunch?
Do you have students with special needs (will a TA or ECE be coming to assist)?
Any other information that might be important
We ask for a breakdown of each class at the time of booking (ex. 4 classes: 24, 25, 23, 22). If classes have less than 20 students, classes should be combined into larger groups.
After you have booked your tour, a confirmation letter will be emailed for your records. You will also receive a Teacher Information Package that includes Curriculum Connections, and Pre and Post Activities for your class.
Review the information to prepare for your visit.
PAMA Learning Fund
PAMA's Learning Fund supports a variety of programming at PAMA. The Learning Fund helps to reduce the financial barriers allowing students of all ages to engage, explore and connect with our collections through field trips. Our goal is to ignite a lifelong relationship with art and history.
If your school requires financial assistance for a school program, please fill out the PAMA Learning Fund Application Form.
One application per organization can be submitted, and applications are considered on a first come, first-served basis and funding is not assured until application process is completed.
Free admission for teachers
Show your OCT card and you get free admission to the Peel Art Gallery, Museum and Archives, any time we're open. Come and check out all that PAMA has to offer!