We are excited to announce that Peel Art Gallery, Museum and Archives (PAMA) is now taking applications for our Youth Council.
Vision Statement: The PAMA Youth Council will provide refreshing and inspired guidance that supports and empowers local youth to become great leaders and will encourage community connectivity through Peel Art Gallery, Museum and Archives. The Youth Council will enable youth to share their stories and build community through exhibitions and
programming for youth by youth.
What is a Youth Council? The Council is a diverse group of young people who will create, participate and support a variety of projects and initiatives. This is a collaborative partnership between youth and PAMA staff.
Why PAMA's Youth Council?
Image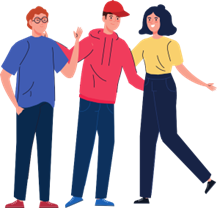 Volunteer hours
Letter of recommendation
Access to mentorship and guidance
Access to the Art Gallery, Museum and Archive
Confidence-building
Opportunities for connections and engagement
2022/2023 Term
The Youth Council Term will run from October 2023 until May 2024
Requirements to Join
We are looking for 10 to 15 individuals between the ages of 16 – 21
Must be able to make a 7-month commitment
Must live or go to school in the Region of Peel
Are you interested in joining?
Fill out this short application and email it to PAMA Education.
You will be asked:

Name and contact information
Parent/guardian name and contact information (if under 18)
Name of school and grade level
Why you are interested in being on the council
What skills and experience you would bring to the council

PAMA will be looking to recruit youth with different experiences and interests. Please apply before September 15, 2023.
What to Expect
The Youth Council will launch in October 2023 with an orientation meeting
The group will meet monthly or as needed either virtually or at PAMA
The Youth Council will collaborate with PAMA staff on projects and initiatives
Social and creative outlets
Working in collaboration with youth to create youth-based programming
Some projects might include: community art projects, PAMA special events (Family Day, March Break, summer programs) or Youth Week activities
Have Questions?